Aid Supply and Computers for Primarily Children in Mosul, Camps of Hassan Sham and Barca
Published on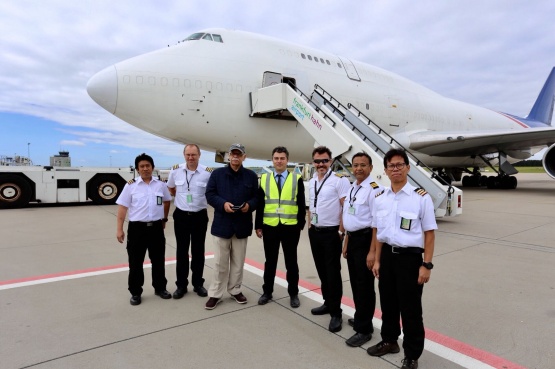 by Frank Franke, President of Wings of Help- Luftfahrt ohne Grenzen, Germany
26.06.2018
The team of Luftfahrt ohne Grenzen has landed with a very large compliment of relief goods in Iraq, Region Kurdistan.
The cargo plane of Silk-air arrived at the airport of Erbil at 09:30h. On board 80qmtr of aid supplies for primarily children of Mosul, Karakosh and Hassan Sham.
The accompanying team of LOG will be distributing the supplies within the next few day
27.06.2018
As we walk through the camp Barca in North Iraq, the temperature is nearly 44 Centigrade. There are 3 children approaching us, one of them barefooted. As we ask why he is walking without shoes on thescorching concrete he whispered to us, "we have no shoes". We decide to immediately go shopping toget some for some shoes. We return to a little hovel stone house. It is nice to be able to give immediate help.
Our task tomorrow: "Education is Future", we will open a computer school in the first refugee camp.
28.06.
In cooperation with the Barzani Charity Foundation, Wings of Help set up 2 computer schools in refugeecamps of North Iraq. "We are convinced, that adequate education will be an enhancement for a goodfuture. This is especially true for those people who have lost all hope. "Education is Future!" Knowledgeis the bridge to succes
29.06.
The Barzani Charity Foundation cares for more then 4000 children under 3 years of age. The largest problem is the lack of children's food. The country does not produce children's food, all needs to beimported. Especially milk products are scarce and hardly to obtain. With the large load on board the cargo plane, we are able to ease the lack for a little while. On board also diapers among other goods. The recipients are listed in a register and long lines of waiting people are cueing along the fence. The LOG team witnesses the orderly distribution of the relief goods.
Our tasks tomorrow: The cruel fate of a little 10 year old girl which arrived all by herself in the camp after loosing her entire family.
Wings of Help- very disturbed 10 hours ago
It is in the refugee camp of Hasan Sham that a little girl leans against the fence, all by herself.
She is 10 years of age and her name is Ruqaya. She arrived on foot in the camp being all alone. She lost within one night her parents and 6 siblings in a bombing raid in Mosul. She is very somber. We never did see even the smallest smile in her face. Our friend Omar translates our conversation. She is always so deeply saddened and misses her family. We wonder what her life and future will be. She longs for some warmth and closeness to other people.
Her fate is only one of so many others, but it is symbolically for the insanity of this war.