Humanitarian aid for war refugees in Greece Luftfahrt ohne Grenzen/Wings of Help e.V. continues its help with goods to Athens and Thessaloniki
Published on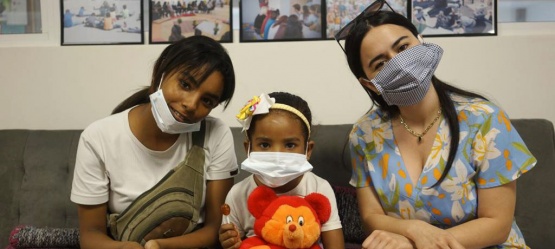 In Greece, Luftfahrt ohne Grenzen/Wings of Help e.V. works with two important aid organizations, with "The Smile of the Child", the largest aid organization for children in the country and the organization ELPIDA, the Greek word for hope. The organization primarily helps families with all questions related to integration with priority operations in northern Greece and based in Thessaloniki.

The UN estimates that there are around 75,000 refugees in Greece, both in camps and unaided throughout the country. Luftfahrt ohne Grenzen/Wings of Help e.V. had the opportunity to visit the largest camp in Thessaloniki, "Diavata", during the relief mission. Around 1,800 refugees live there under the most difficult conditions. A group of 16 families plays a special role. Their asylum application has been approved, but they have no chance of traveling to another EU country. To make matters worse, there is no support for these families.

"The situation of the people we met demands quick and non-bureaucratic help. You just have no other chance. We therefore decided to bring more aid goods to Thessaloniki on short notice, "said Frank Franke Managing Director of Luftfahrt ohne Grenzene/Wings of Help e.V.

The recent help was made possible above all by the great support of the Conrad N. Hilton Foundation and others. Luftfahrt ohne Grenzen/Wings of Help e.V. has had a reliable partner here for years.
Luftfahrt ohne Grenzen/Wings of Help e.V., headquartered at Frankfurt Airport, is spreading its wings around the world to help people in need. The areas of responsibility are the immediate care of needy children and families after natural and humanitarian disasters as well as the transport of medical emergencies from all over the world for medical treatment to Germany. In addition to numerous aid projects worldwide, including in Haiti / Pakistan (earthquake), Myanmar / Indonesia / Japan (tsunami), Syria / Iraq / Greece (refugees) and Mozambique (current cyclone disasters)

the organization for children and adolescents builds computer schools, such as in Myanmar, Nepal, Puerto Rico and Kurdistan. The credo: Education is the sustainable basis of young generations, who gain new perspectives and opportunities via electronic media and thus have access to the rest of the world.

Founded in 2003, the charitable aid organization works together with airlines, logistics firms and a large number of renowned German and globally engaged companies. In its 17-year history, Luftfahrt ohne Grenzen/Wings of Help e.V. has rapidly and non-bureaucratically delivered aid, food and much-needed pharmaceuticals worth more than € 120 million and over 6,000 tons to people in need on every continent. This is done on site in cooperation with local and world-wide active aid organizations. Wings of Help issues donation receipts to donors.