Six Remote Areas of Ampanihy District in Madagascar received Medicine by Air
Published on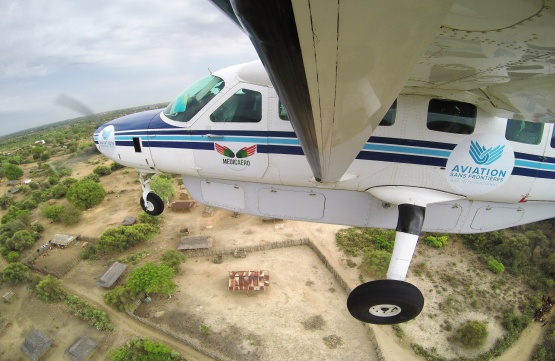 In April a 2018 a multidisciplinary medical team of 13 people has been able to consult patients of 6 remote areas of Ampanihy District thanks to the Cessna Grand Caravan operated by ASF in April. It has been the 6th mission of ASF with the NGO Mediaero
Health system with difficulties
People in the remote areas of Madagascar face serious difficulties to access to health care. This situation, caused in part by poverty, deterioration of roads infrastructure and increased insecurity, is aggravated by the lack of resources invested in health centers and the consequent medical desertification. The deterioration of the health status of the population has a wider impacts, including worsening poverty, in areas where chronic malnutrition is already prevalent.
Fly to help the most in need
The innovation of the medicine by airplane supported by the French NGO Médicaéro and by Aviation sans Frontières is to bring a team of medical specialists directly in contact with the patients of the remote areas thanks to air transport. Aviation is indeed the most appropriate option in that specific context:
From an economic point of view, a one-hour plane trip can cover large distances and avoid the mobilization of a 4X4 vehicle pool for several days.
On the safety side, the roads are often unreliable: they are severely degraded and even more during the rainy season, which causes 4X4 breakdowns. These roads are also often subject to bandits' attacks.
In an effort to save time and increase efficiency, volunteering medicine specialists have only a few days available to treat hundreds of patients. The airplane thus allows them to be the most efficient by moving quickly from one area to another in order to save as many lives as possible.
Medicaero provides persistenly coultations for capacity building
Since 2015, Medicaero's team of doctors provide one week of medical consultations and interventions per trimester in Ampanihy District in south-west Madagascar, in Ampanihy and Ejeda towns and surrounding villages, in collaboration with local doctors and nurses. These interventions are associated with capacity building of local medical staff and the provision of medicines to health centers.
Next steps towards sustainability of the project
Training of future field doctors: Médicaéro will offer practical training for medical students in Madagascar in order to allow the creation of a pool of doctors to intervene in remote areas.
Rehabilitation of the hospital of Ampanihy: thanks to a water network, the supply of electricity and the implementation of an operating theatre.
Integration of the concept of the medicine by the air in the Malagasy National Health Plan: Médicaéro hopes to achieve this objective soon through its close collaboration with the Ministry of Health of Madagascar, which is increasingly involved in the project.